Esthetic Fillings (light-cure Composite)
---
Esthetic filling is designed to meet the highest standards of esthetic to make the tooth look natural in a new way. Being known as the composite fillings, it matches the tooth color perfectly and invisible to find the treated part. In general, it is referred as white fillings performed as a light cure to the decayed area.
The main purpose of this filing is to treat the cavities, repair the broken or cracked teeth, which worn down due to tooth grinding and nail biting activities. This problem is cured by the dentist who removes the decayed part and fills the area in the form of treatment with mercury based mixture method which is silver in look.
To whom are the Esthetic fillings recommended?
Esthetic fillings are performed to those whose teeth changed color, fractured, has a lot of cavities and worn down. Besides this, a person who has space between the teeth is treated with fillings to give a normal look.
What are Esthetic fillings made of?
Esthetic fillings also known as composite are made from composite resins, which consist of microscopic beads. Earlier, this method was used to fill the front teeth, which later improves and successfully used on the back teeth to treat the cavities and give the exact color of the pale yellow teeth. Let your dentists examine your teeth and decide for the process if required.
Incisal Edge Fracture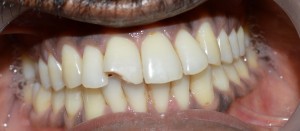 Composite Restoration Done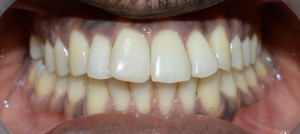 Before Composite Restoration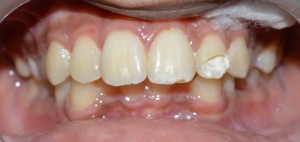 After Composite Restoration