Tooth Whitening
---
Tooth whitening is a kind of cleaning process through which yellowish layers and stains are removed from the surface of the teeth. This process helps to give pearl white teeth and improves all-inclusive look irrespective of genders. Among the modern cosmetic dentistry tooth whitening is very popular whicha is performed by dentists.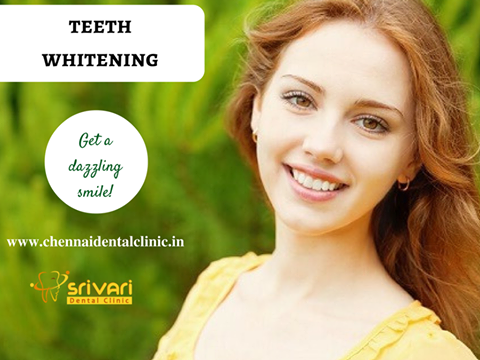 Requirement of Tooth Whitening
The external layer of tooth i.e enamel becomes affected due to presence of pellicle which creates stain on enamel. On the other hand, stain may come from pores which are contained by enamel. The cause of stain on tooth is for
Using tobacco
Drinking cold drinks, caffeine, tea, dark chocolate
Lack of tooth caring
Procedure of Tooth Whitening
The whitening procedure is mainly categorized in two significant types non-vital and vital whitening.
Non-Vital Whitening
Non-vital whitening is basically applied when single tooth becomes discolored after treating root canals. Through this procedure the discoloration can restore. This procedure can be applied if no living nerves are there inside the tooth.
Vital Whitening
Various chemicals are associated with vital whitening. From hydrogen peroxide to laser rays are used to bleach the tooth. The entire procedure is done in the chamber of dentist as it requires numerous apparatus.